Italian Design Day 2022 (Chongqing Station) Successfully Held in eCool, Chongqing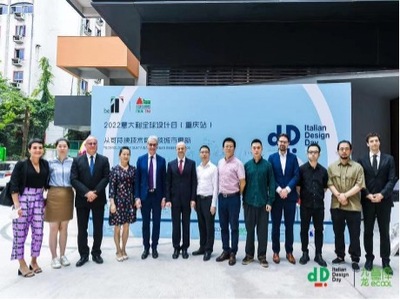 On May 24, 2022, the Italian Design Day 2022 (Chongqing Station) was successfully held in eCool in Chongqing. Italian Design Day (IDD) was initiated by the Ministry of Foreign Affairs of Italy in 2017 and supported by the Italian Ministry of Culture and the Italian Trade Agency (ITA). It is a significant event targeting a global audience. In over 100 cities worldwide, "Italian Design Ambassadors" appointed by the IDD Expert Committee deliver interpretations of high-quality Italian design.
The committee is composed of ADI, the Compasso d'Oro Award, Triennale di Milano, Salone Internazionale del Mobile Milano, the Italian Furniture Industry Association, and Altagamma.
The event was hosted by the Consulate General of the Republic of Italy in Chongqing, China Merchants Group, and eCool, co-organized by the China-Italy Chamber of Commerce and the Galileo Galilei Italian Institute, and presided over by the Science and Technology Counselor of the Consulate General of the Republic of Italy in Chongqing.
Mr. Bi Lanqi, the Consul General of the Italian Consulate, leaders of the Chongqing Housing and Urban-Rural Construction Commission, Chongqing Commerce Commission, Chongqing Yuelai Xingcheng Asset Management Co., Ltd., representatives of the China-Italy Chamber of Commerce member enterprises, and friends of the members were present at the event.
The theme of this Design Day was "Discussing Urban Renewal from a Sustainable Perspective". The "2022 Italian Design Ambassador", Mr. Ma Xiaoli, Partner & Managing Director of Progetto (Beijing) Architectural Design Consulting Co., Ltd., shared Italy's extensive experience, aiming to establish a sustainable development perspective that integrates geographical characteristics, local culture, and ecological development. Mr. Xie Hui, Vice Dean of the School of Architecture and Urban Planning at Chongqing University, outlined relevant cases, focusing on the challenges of the living environment under climate change, sharing frontier design research, and concentrating on the interactivity and healing nature of places.
Disclaimer: Except for original content and specific statements, the articles and images published on this website are sourced from the internet and major mainstream media, and the copyrights belong to their respective original authors. If you believe that the content infringes upon your rights, please contact us for removal.