Top Ten Industrial Designers in Sichuan and Chongqing | Zhao Wei: Walking between the Spindles of Time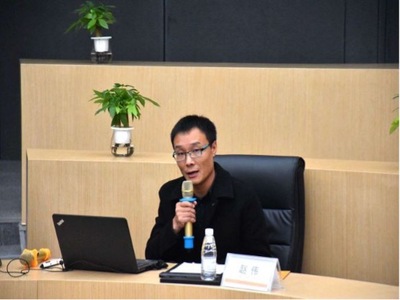 Time flows like a river, with Zhao Wei stepping into his forties this year. Standing at the threshold of this critical age, Zhao Wei, the General Manager of Chongqing Artop Design Industrial Co., Ltd., gains more clarity in his heart: to walk on the "crest" of design and communicate with industries through craftsmanship. This serves as a summary of his past two-decade-long design career, and a message for the rest of his life.
Over the past twenty years, Zhao Wei has drawn a spiraling trajectory of his life: with the perseverance of thousands of design solutions for a single project, he made his way to the top fifteen Dragon Design Foundation Award China Youth Top 100, honored as one of the top ten outstanding industrial designers in Chongqing, and was selected as one of the Top Ten Industrial Designers in Sichuan and Chongqing by the Sichuan-Taiwan Industrial Design Awards this year. He rode the waves in the field of industrial design. He moved from the remote mountains to the coastal Special Economic Zone and then to the rural front line, completing a transition from a mountain boy to an excellent industrial designer, always resonating with the times.
Spindle!
A Thousand Designs for One Order, Bold Innovation Pays Off
Over 30 days and nights, more than 1,000 design solutions, all for securing a single order… This is what the reporter learned about the most "determined" aspect of his design process from multiple interactions with Zhao Wei. This happened in 2019, the second year after Zhao Wei was promoted from supervisor to general manager at Chongqing Artop Design Industrial Co., Ltd.
One day, Zhao Wei got news of a special foreign trade order that could open a new front for the company if successfully secured. However, the prerequisite for obtaining the order was to conquer a completely unfamiliar field and beat other top industry experts, including those from Tsinghua University Academy of Fine Arts. After several deliberations, Zhao Wei decided to go for it! He and his team embarked on a month-long "Design Long March".
More than ten designers from the company were mobilized to work around the clock. The entire team crammed to fill in knowledge gaps, searching online, checking books, and even getting to grips with complex information. They divided tasks, made schedules, exhausted every idea, and after more than 30 days and nights of continuous work, they ended up with more than 1,000 design solutions! From thousands of options, Zhao Wei's team chose three to participate in the first round of the competition among the four teams.
To increase the chance of winning, Zhao Wei and his team worked overtime to upgrade the plain PowerPoint picture display into an exquisite film with animation and sound effects. This made the client extremely happy, and all three proposals ranked first, third, and eighth. In the end, Zhao Wei's team secured the order.
On the surface, it seems that the order was secured thanks to their unyielding effort day and night. However, though Zhao Wei was relentless, he was not reckless. During the "closed-off" month, he led the team to come up with a brand-new design concept that overturned the traditional design thinking in that product field. This became their winning secret to gain the client's favor. The successful delivery of this order eventually led to a series of new customers.
According to Zhao Wei, to create good design, one needs to be relentless, but this relentlessness must be centered on "solving user pain points". "Design is to solve problems." This is the view of Liu Guanzhong, the "Father of Chinese Industrial Design", and also the deepest understanding of industrial design by Zhao Wei over the years — all designs that deviate from user needs are just beautiful drawings.
Relentlessness leads to innovation. He led his team to work with the State Grid to create a new type of power patrol robot. With a more humanized design, it broke away from the traditional rigid square image, leading a trend in the industry; the surgical robot project in cooperation with the Chongqing Institute of Green and Intelligent Technology, Chinese Academy of Sciences, has helped the industry break the monopoly of imports and fill in domestic gaps.
Relentlessness leads to glory. In recent years, Zhao Wei has been riding the waves in the field of industrial design. Not only have his works such as "Peacock Ming King Knife", "Surgical Robot", "Buddha Eye Knife" frequently won awards, but he himself has also been honored as one of the top ten outstanding industrial designers in Chongqing and was selected into the 15th Dragon Design Foundation Award China Youth Top 100, known as the "Oscar" of the Chinese design world.
Tide!
Crossing mountains and seas to return to the countryside, resonating with the great era
If Zhao Wei's twenty-year design career can be described with the word "axis," then his forty-year life is represented by a capital "tide".
Born in the mountainous area of Dazhou, Sichuan, Zhao Wei has never been content to be a mountain man all his life. From the depths of Daba Mountain to the plains of Chengdu and then to the coastal city of Shenzhen, he is like a "tide chaser" of the era, striving to rush to the "crest" of industrial design and leap into the vast world.
Zhao Wei's first "tide" came in his youth. He wanted to get a chance to leave the mountain, so he chose to study industrial design at Xihua University in Chengdu, the provincial capital. At that time, a tide of "moving from Made in China to Designed in China" was sweeping the country, and industrial design was at the crest of the wave. Zhao Wei hoped that he could ride the wave and make a difference.
Zhao Wei's second "tide" came in his youth. In 2005, he graduated from university in his early twenties. He packed his bags from his dormitory, carried a few hundred yuan for living expenses, and ventured alone into Shenzhen. This now nationally recognized city for industrial design had already shown signs of early and rapid development in industrial design, becoming a hotbed for many designers to brave the rapids and advance.
In Shenzhen, Zhao Wei started as an apprentice earning only a few hundred yuan a month. After 12 years of hard work, he dabbled in fields such as energy manufacturing and medical equipment design, becoming a jack of all trades. In 2017, Zhao Wei joined the leading design innovation service in China – Artop Design Group, stepping onto a new stage in his career.
In the heat of the Western Development, Zhao Wei's life trajectory changed for the third time. As a high-end design innovation talent, he was introduced back to Chongqing by Shapingba District and joined Chongqing Artop Yuli Technology Co., Ltd. In 2018, he established Chongqing Artop Industrial Design Co., Ltd. and served as the general manager.
In recent years, the team led by Zhao Wei has provided professional services for more than 300 enterprises in and around Chongqing in terms of product innovation and enterprise upgrading and transformation, and has deeply participated in the construction of industrial design curriculum systems, talent training, and research results transformation projects in many higher education institutions in Chongqing. The achievements are remarkable.
However, Zhao Wei's focus is quietly shifting. He frequently goes down to a small town in Liangping County, Chongqing, to personally research and promote the local street landscape transformation and living environment improvement work.
Zhao Wei told reporters that this is a rural revitalization project that he just started to take over in May this year. He and his team will handle everything from the creation of the town to the branding of local agricultural and sideline products, step by step, to transform this land with the power of design.
This is a new beginning for Zhao Wei to cross boundaries, and it will be his "main battlefield" for a long time to come. In Zhao Wei's view, since the 19th National Congress of the Communist Party of China proposed the implementation of the rural revitalization strategy, rural revitalization work has been orderly carried out all over the country, effectively connected with poverty alleviation, and is accelerating to deepen. The tide of the new era is surging, this is a new "crest", it will be promising, and it will be very meaningful.
From the deep mountains of the inland to the special zones along the coast, and then to the front line of the countryside, with the force of an "axis", Zhao Wei has always resonated with the tide of the times and built dreams with craftsmanship.
(Sichuan Economic Network Reporter Huang Xiaoqing)
Disclaimer: Except for original content and specific statements, the articles and images published on this website are sourced from the internet and major mainstream media, and the copyrights belong to their respective original authors. If you believe that the content infringes upon your rights, please contact us for removal.