Top Ten Industrial Designers in Sichuan and Chongqing | Xu Qingming: Elevating "Industrial Heights" through a "Design Highland"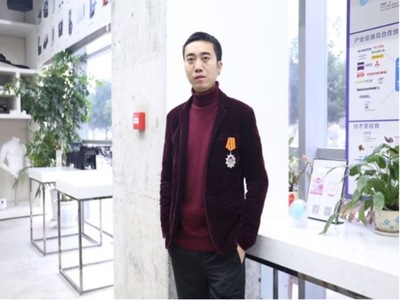 At first glance, 39-year-old Xu Qingming appears as a gentle and elegant man, but when he speaks in his hearty Chongqing dialect, the subtle contrast immediately leaves a deep impression.
The labels "Ph.D. student" and "General Manager of Artop Yuli Technology Co., Ltd., Chongqing" already suggest Xu Qingming's excellence. However, his confidence extends far beyond these when he became one of the "Top Ten Industrial Designers in Sichuan and Chongqing" selected in the 2021 Sichuan-Taiwan Industrial Design Awards.
Leading his team to gain recognition as a "National Industrial Design Center", he filled the gap for professional industrial design companies in the Chongqing area to achieve such national recognition. They were also acknowledged as a "National Science and Technology Enterprise Incubator", becoming the first national "Professional Industrial Design Enterprise Incubator". Xu and his team have received over 20 recognitions such as "Ministry of Industry and Information Technology Service Manufacturing Demonstration Platform", "Youth Entrepreneurship Demonstration Park of the Central Committee of the Communist Youth League", "Chongqing High-end New Research Institution", etc. Besides these achievements, Xu Qingming himself was nominated as one of the Ten Outstanding Youths in China's Design Industry in 2020.
Noteworthy is that Xu Qingming's design field is not limited to simple industrial products. He has spearheaded projects like the D+M Creative Haus by AG (Artop Intelligent Manufacturing Workshop), Daqian Intelligent Technology Research Institute, and several platforms for design research and development innovation and industrialization services in the service industrial design field.
Perhaps because of this, Xu Qingming tends to look at "industrial design" from a broader perspective and contemplates "where design should go."
Strengthening Industrial Design to Empower Industries,
Creating Core Solutions to Address Industrial Chain "Pain Points"
Recently, Xu Qingming has been extremely busy, tirelessly working to advance the construction of the Chongqing Industrial Design Industry City.
Located in the Shapingba District of Chongqing, the Industrial Design Industry City of Chongqing, jointly built by the Chongqing Municipal Economy and Information Technology Commission, the People's Government of Chongqing, Shapingba District, ARTOP GROUP, and Artop Yuli Technology Co., Ltd., Chongqing, was put into use on June 22 this year. The city focuses on aggregating over 40 high-end service modules such as common technology research, material application research, user experience research and design, smart mobility design, product design, service design, brand design, IP development and application, rapid prototyping, inspection and testing, precision mold technology, supply chain management, etc. It aims to build a design innovation service system leading eight directions, including design-driven sustainable development, global development, technological innovation, supporting Chengdu-Chongqing dual-city economic construction, leading consumption upgrades, leading healthy living, assisting rural revitalization, and leading future mobility.
As the main person responsible for this project at Artop Yuli Technology Co., Ltd., Chongqing, Xu Qingming has put in tremendous thought and effort into the birth of the Chongqing Industrial Design Industry City.
In his view, this industry city is of great significance to Chongqing and even the entire western region of China. "In coastal areas, every one yuan invested in industrial design can drive 500 to 800 yuan in sales revenue. However, in Chongqing, every yuan invested in industrial design can only drive about 108 yuan in sales revenue, which is far lower than the Pearl River Delta and Yangtze River Delta regions. This is influenced by the level of industrial design and also related to the gap in industrial scale in different regions. The entire western region urgently needs a high-quality innovative ecosystem for the entire industrial design chain to realize more efficient allocation of high-quality innovative resources for the manufacturing industry." Xu Qingming hopes that the emergence of Chongqing Industrial Design Industry City can help Chongqing and even the western region make up for this shortfall.
Having worked in the industry for many years, Xu Qingming has been highly concerned about the development of industrial design in the Sichuan-Chongqing area. Although in recent years he has been pleased to see that the government attaches great importance to and promotes industrial design, a worrying phenomenon is that the reaction of enterprises and the market is somewhat sluggish. "Especially here in Chongqing, there are many heavy industries, and some industrial enterprise customers are somewhat traditional. They still need us to explain to them what industrial design is and why they need to use industrial design."
This makes Xu Qingming deeply feel that compared with the coastal areas, there is an objective gap in the atmosphere of valuing industrial design in the western region, and there is still a need to catch up.
How to catch up?
In his view, on the one hand, we need to "strengthen the industry." Today, the construction of the Chengdu-Chongqing economic circle is in full swing. Accelerating the growth of the industrial scale in both places by complementing the resource elements of Chengdu and Chongqing will help enrich the soil for the growth of industrial design.
"Chengdu's software and electronics industries are somewhat lacking in Chongqing, while Chongqing has a better foundation in heavy industry. The directions that the industrial design enterprises of the two places focus on are not the same. They should learn from each other's strengths to plan the development of the industry and industry in both places. When the industry develops to a certain stage, the further demand for industrial design will naturally arise."
On the other hand, we need to "strengthen awareness." This includes understanding of the service scope of industrial design and recognition of the role of industrial design.
"Today, many industrial enterprises and design companies' understanding of industrial design is limited to the transformation of the product itself, which is incomplete." Xu Qingming believes that the energy of industrial design goes far beyond this.
"In fact, industrial design also includes a company's business model design, service model design, capital channel design, supply chain construction, quality control, brand building, after-sales packaging, cost control, sales promotion, etc. All these aspects of the production and operation process are also within the service scope of industrial design."
Xu Qingming proposes that industrial design can serve as a "core means" to lead resource integration, plan paths, and provide various solutions for pain points in the industry chain. This is also the mission he hopes Chongqing Industrial Design City can undertake.
Aiming for the "coastal height"
Using the power of design to add wings to the dual-city industry
During the interview, Xu Qingming spoke passionately. Every word he uttered radiated his love for industrial design.
Born into a "professional" background, Xu Qingming studied industrial design as an undergraduate. Speaking of his original intention to enter the field, he said: "The essence of industrial design is to satisfy people's yearning for a better life. This is the eternal theme of my past, present, and future work."
After graduating from university, Xu Qingming moved to Shenzhen. In this national demonstration city of industrial design, he broadened his horizons and developed a more mature understanding of industrial design.
In 2015, Xu Qingming was introduced back to Chongqing as a high-end industrial design talent in Shapingba District, and he established Chongqing Artop Yuli Technology Co., Ltd. as one of the founders.
Since then, Xu Qingming has led his team to plan and build a series of high-quality projects such as the D+M Artop's Smart Manufacturing Workshop, Chongqing Intelligent Manufacturing Industry Public Service Platform – Daqian Intelligent Technology Research Institute, and Industrial Design Basic Research System – Human Factor Engineering Research Center, etc. These projects have made outstanding contributions to exploring new models and directions for the development of the industrial design industry, perfecting the industrial design industry ecosystem in Chongqing, and building an industrial design innovation system to support the construction of the Chengdu-Chongqing economic circle.
Xu Qingming himself has also carefully crafted many excellent works, all imbued with his clever ideas and craftsmanship.
His designs of "Honggang Machine Tool", "Comet Lamp", "Drum Bluetooth Speaker" have all been awarded excellent design exhibits at the China Industrial Design Expo. Structures such as the head of the folding electric car, the power structure of the stair climbing aid device, and the rail structure have each won a patent certificate.
This year, Xu Qingming participated in the 2021 Sichuan-Taiwan Industrial Design Awards and was honored with the title of "Top Ten Industrial Designers in Sichuan and Chongqing". With this laurel added, he had some unique feelings.
"I have participated in many industrial design-related events, and these awards often pay more attention to the works themselves. However, the works are always produced by people. This time, the Sichuan-Taiwan Industrial Design Awards chose to focus part of the camera on the designer, which made me feel comforted and more encouraged."
In the focused conversation, the sky had darkened without notice. Through the conversation with Xu Qingming, the reporter felt his deep hope and beautiful expectation for his industry and hometown.
Xu Qingming said that as an industrial designer, he will always stick to his professional ideals and not change his original intention to make life better with design. "We want to push the industrial design capabilities of Sichuan and Chongqing to a height that is not inferior to the coastal cities, and let the 'dual city' industry 'add wings like a tiger'."
(Sichuan Economic Network reporter Liao Zhenjie)
Disclaimer: Except for original content and specific statements, the articles and images published on this website are sourced from the internet and major mainstream media, and the copyrights belong to their respective original authors. If you believe that the content infringes upon your rights, please contact us for removal.